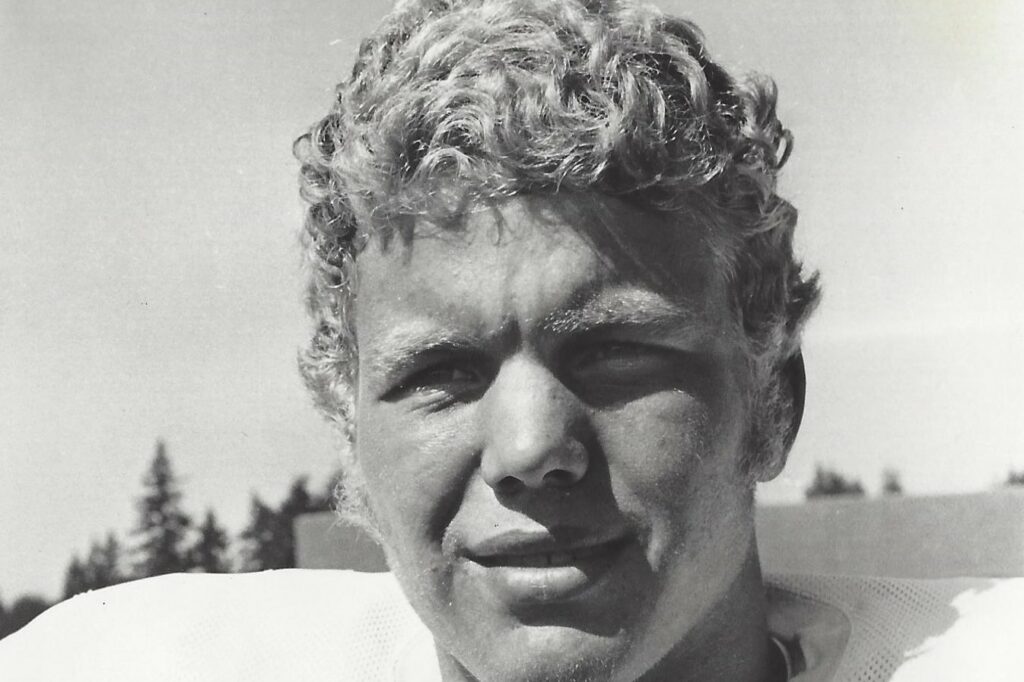 Reframing Life in God's Grace (Chapter 1)
Meeting Kurt for the First Time
I met Kurt as an 18-year-old freshman in college. Kurt had been recommended to me by older classmates who had seen him at a local establishment specializing in pitchers of beer and chicken drumettes, pool, air hockey, and darts. Jim's 21 21 was also known for its more lenient enforcement of the drinking age, helpful for football players during the off-season and the young ladies in their shadow who were not yet 21.
After seeing Kurt and his buddies enjoying a pitcher and some pool, friends from my dorm returned with helpful, although slightly inebriated, advice for their love-starved floor mate whose criterion for a possible love interest was limited and hunger for prospects insatiable. They confirmed for me that Kurt had been a starter during the fall football season and suggested I give him some consideration.
Needing no more than an upperclassman's drunken endorsement and a vision of a cutie in a football jersey, I promised to seek him out, forgetting for the moment that my referral was coming from the drama student who three months earlier had been sitting on the steps of the building emoting through swirls of cigar smoke as new freshmen moved in with the aid of startled moms and dads.
My goal for meeting Kurt became a mission. Never having had a diary as a young girl, I decided this special adventure was worth the time and paper. I was so sure that meeting Kurt would be a momentous occasion and one worthy of reflection that I logged every chance sighting and hormonally charged thought and feeling. My daily observations continued without fail for weeks. I knew when he ate, when he went to class, when he studied. I knew his football friends and the people in his dorm.
Living in my own all-girl dorm, I had close friends and casual acquaintances on the lookout for me, never missing the opportunity to report on Kurt's daily adventures: "I think I saw Kurt on the second floor of the library in one of the study carrels." If Kurt was studying, I suddenly had things to do in the library. If Kurt was eating late, I could be found visiting with friends long into the dinner hour, waiting to spot him with a tray of institutional spaghetti. I thrived on the possibility of just seeing him walking into the room, sitting and eating, grabbing a second serving of whatever.
My quest for meeting Kurt was really that superficial. Today I think it would have been described with another S word: stalking. I watched, observed, and dare I say, spied, journaling throughout. Upperclassmen had said Kurt was pretty cute and suddenly I was on a mission to meet him. His quiet confidence became intoxicating, his intensity bewildering yet captivating, and for the moment, he was totally oblivious to the intense scrutiny of one freshman who had him in focus morning, noon, and night. I had yet to hear him speak, I had yet to make eye contact with him, but I had meticulous documentation of daily sightings and my own emotional reactions.
Kurt and I finally met at a party during interim, a month-long break between the fall and spring semesters. During January, students took just one or two classes, providing us with an opportunity to tackle a particular area of study for a shorter, more intense period of time. It also gave us a month to partake in social gatherings on campus and off without the rigors of an ordinary class load of work and homework.
Early in the month friends and I headed to a nearby house of upperclassmen. In keeping with the football theme, they were actually the male portion of the school's cheerleading squad. I learned immediately upon entering that Kurt was part of the festivities. Fortified with the confidence of an alcoholic pre-function and weeks of intense scrutiny, I waltzed into the kitchen, interrupted whatever he might have been doing, smiled, and said, "Hi, I'm Deanna. I'm supposed to like you."
To say we began a special journey together hardly suffices. For me our introduction began a major overland trek as I waded through swamps of emotions and climbed mountains of insecurity. My thirty-second dance that night in the kitchen took me down a road with more drama than I could ever have imagined. My friends and roommates suffered through moments of pure bliss ("He called!") and devastating setbacks ("He was at Denny's with a girl from his dorm!").
Within minutes of meeting Kurt, I was totally smitten. I ached at the very thought of every encounter. I quickly overwhelmed him with an eighteen-year-old's angst and determination.
For nine years Kurt and I dated, broke up, and got back together. To this day, I badger him about his timing, since many of our breakups occurred just prior to major holidays, like Christmas and birthdays. I still question whether he was coming up emotionally short or just short on cash for a gift.
Kurt's reluctance to commit before he was ready forced me to become independent, to find a career and opportunities separate from him. Rather than risk being found sitting home alone on a Friday night, I also plunged into an active social life that was more reflective of my ongoing annoyance with Kurt's determination than any real desire to make new friends.
Thirty-seven years after meeting Kurt, I gave him an oversize valentine with a handwritten message, "You are the biggest and best part of my life." Had I known that first January that he would become the very love of my life, I'd like to think I could have dialed it down a notch or two, but I doubt it.
With my journal set aside after that first introduction, my emotions went into an almost daily exercise of "he loves me—he loves me not." To think that this went on for nine years before we finally married, had to have exhausted an entire community of friends and relatives, especially my roommate Sheryl who counseled me through every slight and misunderstood intention.
And yet, thirty-seven years after meeting Kurt, after that cringe-worthy introduction, I find myself in a marriage of sheer joy and happiness, in a relationship with my very best friend. I absolutely delight in my time with Kurt. When he's traveling, his calls are the highlight of my day. Our vacations together are a time of reconnection and relaxation, a time to enjoy a little solitude at the pool and dinner at our favorite restaurants, a time to catch up on the latest gossip and newest movie. And whether we're in the middle of an animated retelling of the day's events or savoring a quiet car ride, I'm happy—I'm just plain happy.
God took my superficial wants and desires and guided me to a man of character. In 1972 I saw a football player with the cutest butt. I saw blue eyes and curly hair. I saw a cool guy and had the audacity to believe that I was the cool girl missing in his life. And with that, God stepped in and dialed it down a notch, giving Kurt the strength to keep me at arm's length when necessary and within reach when the time was right. God walked beside us and between us from that first moment.
Thanks be to thee, my Lord Jesus Christ, for all the benefits Thou has given me, for all the pains and insults Thou hast borne for me. O most merciful Redeemer, Friend and Brother, may I know Thee more clearly, love Thee more dearly and follow Thee more nearly, day by day.
With God, it can be so.  With the fruit of God's love, I am able to love.  As His child, I am able to share His love with those around me.  And as I look back on my life, I see beautiful remembrances of His love and care, all framed in the forgiveness of His Son.
Words by Charles Wesley and Music by Rowland Hugh Prichard
Love divine, all loves excelling, Joy of heaven, to earth come down!
Fix in us thy humble dwelling, All thy faithful mercies crown.
Jesus, thou art all compassion, Pure unbounded love thou art;
Visit us with thy salvation, Enter every trembling heart.
Breathe, O breathe thy loving spirit Into every troubled breath;
Let us all in thee inherit, Let us find thy promised rest.
Take away the love of sinning; Alpha and Omega be;
End of faith, as its beginning, St our hearts at liberty.
Come, almighty to deliver, Let us all thy life receive;
Suddenly return, and never, Never more thy temples leave.
Thee we would be always blessing, Serve thee as thy hosts above,
Pray, and praise thee without ceasing, Glory in thy precious love.
Finish then thy new creation, Pure and spotless let us be;
Let us see thy great salvation Perfectly restored in thee!
Changed from glory into glory, Till in heaven we take our place,
Till we cast our crowns before thee, Lost in wonder, love, and praise.